Fourth graders recently graduated from the SAFE Fire Safety Program after completing 3 sessions with Leverett fire fighters. Prior to each session, students completed a short questionnaire to assess their previous knowledge of fire safety at home.
The final session took place at the Leverett Safety Complex, where students practiced placing 911 calls to a real dispatcher. They also spent time in the SAFE Trailer, identifying fire hazards and practicing escaping when a smoke alarm goes off.
Learning from the dispatcher about how 911 calls work.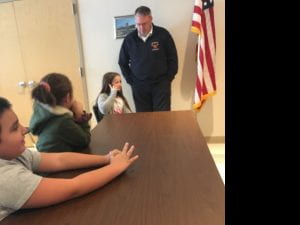 Practicing making a 911 call to the dispatcher.