Konichiwa Fourth Graders,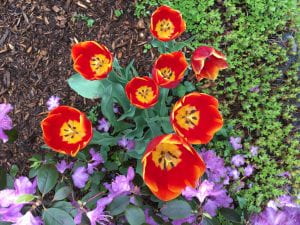 My backyard is putting on its fanciest party clothes these days. It's wearing flowers in many colors and playing beautiful birdsongs.
You might be thinking, "what?!" I just described my backyard as a poet, using something called personification. It's what poets do when they write about animals and objects as if they were humans. You'll learn more about it in today's writing activity.
This afternoon we have a Google Meet at 2:00. Here are topics we'll chat about:
Check-in: how are you doing?
Birthday circles for Ari and Zeb
Questions about the school closure and anything else
See you soon!
Activities for THURSDAY
Our schedule for this week: Grade 4 Remote Learning Schedule – Week of 4_20_20 (1)
Two new place value practice sheets to choose from: